Undone
by Elisabeth Naughton
Publication Date: June 5, 2018
Genres: Adult, Contemporary, Romance
Behind the doors of the House of Sin, no one is ever safe…
I love him. It's the only truth that matters now.
I've cast my old life aside and given myself fully to his wants and desires, to the fire he alone ignites inside me. And together, we've found strength and salvation in each other.
But there are evil forces, people who see me as a threat that must be undone. I trust that our love can withstand any test, but I can't ignore the growing shadows lurking beyond our door.
Because I understand now that those shadows are not waiting to destroy me as I once feared. They've come for him. To steal him away from me for good. And to finally and completely engulf him in a sinister world he's eluded for so long.
In the inescapable darkness of the House of Sin…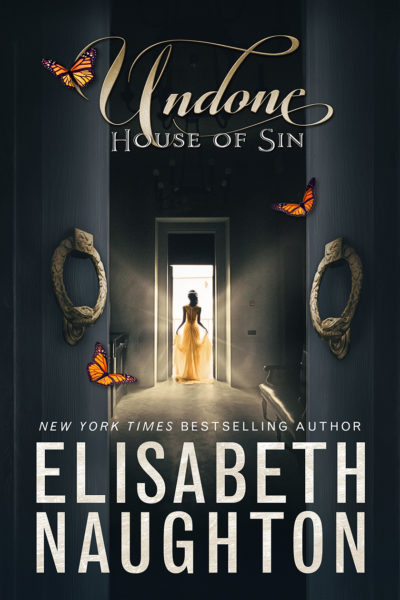 About Elisabeth Naughton
Before topping multiple bestseller lists—including those of the New York Times, USA Today, and the Wall Street Journal—award winning author Elisabeth Naughton taught middle school science. A voracious reader, she soon discovered she had a knack for creating stories with a chemistry of their own. The spark turned into a flame, and Elisabeth now writes full-time.
Elisabeth has penned over thirty books and continues to write in multiple genres. Her books have been translated into numerous languages and have earned several award nominations, including three prestigious RITA® nominations from Romance Writers of America. In 2017, REPRESSED, the first book in her Deadly Secrets series, won the RITA® for best romantic suspense.
Her work has been praised by the Chicago Tribune as being filled with "deadly intrigue, high adrenaline action, and scorchingly hot passion." Kirkus calls her "a writer talented enough at weaving a yarn to get her readers ensnared in it." When not dreaming up new stories, Elisabeth can be found spending time with her husband and three children in their western Oregon home, wrangling two needy cats, or chasing after one very rambunctious Dalmatian.
Website | Facebook | Twitter | Instagram | Pinterest | Bookbub | Amazon | Goodreads
June 4
Filigran, Review
Books and Tequila, Review
Dani's Opinion, Review
Romance Book Review For You, Review
Panty dropping book blog, Review
Maureen and Kathi Read, Review
The Coffeeholic Bookworm, Excerpt
nanasbookreviews, Excerpt
June 5
Read-Love-Blog, Excerpt
Read Our Thoughts Book Blog, Spotlight
I Love Romantic Fiction, Review
Book Lovers 4Ever, Excerpt
The Book Quarry, Excerpt
Reads All the Books, Review
Fantasy Land Blog, Review
A Bibliophile Confesses, Review
Discrete Divas, Review / Excerpt
June 6
Letters Book Blog, Excerpt
two peas in a pod, Review
Brittany's Book Blog, Review
Lynn's Romance Enthusiasm, Review
Nerdy Dirty & Flirty, Review
Books 2 Blog, Review
The Power of Three Readers, Review
Brittany's Book Blog, Review
June 7
A Wonderful World of Words, Review / Excerpt
Ash P Reads, Review / Excerpt
Louise's Book Buzz blog, Review
Biblio Belles, Review
The Book Addict's Reviews, Review / Excerpt
Only One More Page, Review
Rainy Day Reviews, Review / Excerpt
More Books Than Livros, Review / Excerpt
Mile High Kink Book Club, Review
June 8
Gigi Luvs Book, Review / Excerpt
Bookgasms Book Blog, Review
Up All Night with Books, Review
mousey books, Excerpt
Teaser Addicts BB, Excerpt
Read-Love-Blog, Excerpt
Reading Is Our Satisfaction, Excerpt
Schedule
May 14
Filigran, Review
nanasbookreviews, Excerpt / Teaser
Dani's Opinion, Review
Read-Love-Blog, Excerpt
The Book Quarry, Excerpt / Teaser
I Love Romantic Fiction, Review
May 15
LunaWompy's Reads, Review
Romance Book Review For You, Review
Read Our Thoughts Book Blog, Spotlight
Panty dropping book blog, Review
Lynn's Romance Enthusiasm, Review / Excerpt / Teaser
Maureen and Kathi Read, Review
May 16
Ash P Reads, Review / Excerpt / Teaser
Teaser Addicts BB, Excerpt / Teaser
Reads All the Books, Review
Reading Is Our Satisfaction, Excerpt
Letters Book Blog, Excerpt / Teaser
mousey books, Excerpt / Teaser
Biblio Belles, Review
A Bibliophile Confesses, Review
Discrete Divas, Review / Excerpt / Teaser
two peas in a pod, Review
More Books Than Livros, Review / Excerpt / Teaser
May 17
Gigi Luvs Books, Review / Excerpt
The Power of Three Readers, Review
Brittany's Book Blog, Review
A Wonderful World of Words, Review / Excerpt
Books and Tequila, Review
Book Lovers 4Ever, Excerpt
Brittany's Book Blog, Review
May 18
Louise's Book Buzz blog, Review
Fantasy Land Blog, Review / Teaser
The Book Addict's Reviews, Review / Excerpt
Only One More Page, Review
Rainy Day Reviews, Review / Excerpt / Teaser
Mile High Kink Book Club, Review
Bookgasms Book Blog, Review
Up All Night with Books, Review
Schedule
April 23
Dani's Opinion, Review
More Books Than Livros, Review / Excerpt / Teaser
Maureen and Kathi Read, Review
nanasbookreviews, Excerpt / Teaser
Read-Love-Blog, Excerpt / Teaser
Read Our Thoughts Book Blog, Spotlight
April 24
Books and Tequila, Review
Filigran, Review
I Love Romantic Fiction, Review
Romance Book Review For You, Review
Panty dropping book blog, Review
Gigi Luvs Book, Excerpt
April 25
Brittany's Book Blog, Review
A Bibliophile Confesses, Review
Discrete Divas, Review / Excerpt / Teaser
mousey books, Excerpt / Teaser
Teaser Addicts BB, Excerpt / Teaser
April 26
two peas in a pod, Review
Ash P Reads, Review / Excerpt / Teaser
Reads All the Books, Review
A Wonderful World of Words, Review / Excerpt
Louise's Book Buzz blog, Review
April 27
Biblio Belles, Review
Fantasy Land Blog, Review / Teaser
The Book Addict's Reviews, Review / Excerpt
Only One More Page, Review
Rainy Day Reviews, Review / Excerpt / Teaser
Mile High Kink Book Club, Review
Bookgasms Book Blog, Review
Lynn's Romance Enthusiasm, Review / Teaser
Up All Night with Books, Review
Book Lovers 4Ever, Excerpt
Read-Love-Blog, Excerpt
The Book Quarry, Excerpt / Teaser
Reading Is Our Satisfaction, Teaser
The Power of Three Readers, Review