Famous
by Jenny Holiday
Publication Date: July 11, 2017
Genres: Adult, Contemporary, Romance
Everyone knows her face. He knows her heart.
Emerson Quinn is famous. Girls want to be her. Boys want to date her. Each record outsells the last. All that remains is to continue transitioning her brand from its teenage fan base to a more mature, diverse audience. So she's under strict orders to play nice with her army of assigned co-songwriters and to knock off the serial dating that keeps landing her in the tabloids. If she follows instructions, she can look forward to an indefinite run at the top of the celebrity ecosystem. There's only one problem with this plan: Emerson is miserable.
So she runs away, impulsively fleeing her L.A. life and heading for a small Iowa college town where a guy she once knew lives. He's the only person in the world she can think of who might be enough of a nerd to not know about Emerson Quinn the brand. Who might be willing to provide a haven where she can lay low and write her new album by herself, on her own terms.
Art history professor Evan Winslow knows a thing or two about leaving your past behind. He's worked hard to establish himself far from the spotlight of his infamous father. He's up for tenure soon, which will mean job security for life. All he has to do to lock down his hard-won, blessedly quiet existence is keep his head down.
Too bad the most famous pop star in the world—who also happens to be his long-lost muse—has just shown up on his doorstep.
About Jenny Holiday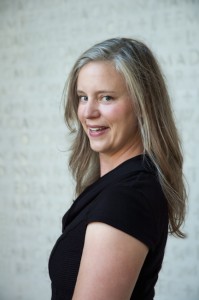 Jenny Holiday started writing at age nine when her awesome fourth grade teacher gave her a notebook and told her to start writing some stories. That first batch featured mass murderers on the loose, alien invasions, and hauntings. (Looking back, she's amazed no one sent her to a kid-shrink.) She's been writing ever since. After a detour to get a PhD in geography, she worked as a professional writer, producing everything from speeches to magazine articles. Later, her tastes having evolved from alien invasions to happily-ever-afters, she tried her hand at romance. Today she is a USA Today bestselling author of all sorts of romance novels: contemporary and historical, straight and gay. She lives in London, Ontario, with her family. She is represented by Courtney Miller-Callihan of Handspun Literary.
Website| Facebook | Twitter | Goodreads | Newsletter